Historic Property Offered: 149 Washington Ave.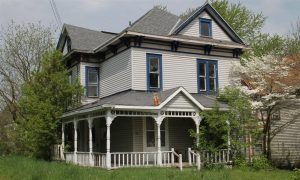 The Richland County Land Bank has a short list of five properties identified as historically significant that have been set aside from the usual demolition process and are being offered to responsible property owners.
149 Washington Avenue tops the list as the property that is in the best physical condition. This was the original home of a Mansfield attorney, Norman N. Wolfe, of the firm Wolfe and Henry with offices on N. Park St. It was built in the 1880s in the Queen Anne style, exemplified by the asymmetrical hipped roof with lower cross-gables, large porch wrapping around the front and side with turned supports and spindlework, and an unusual full cornice with brackets reflecting back to the older Italianate style.
Other properties on the list, which will be featured in later posts, are 153 S. Diamond St., 94 W. Fifth St., 152 W. Fourth St., and 437 Park Avenue West. These houses are condemned by the city, so require a rehab plan and putting up a bond as part of the qualification to own and rehab them. Contact the Richland County Land Bank for more information and forms.
In addition to operating Oak Hill Cottage, the Richland County Historical Society is involved in historic preservation and reviews demolition lists from the Land Bank and advises on historical significance. The Society is a signed-on consulting party to both the City and County programmatic agreements with the Ohio State Preservation Office for the Section 106 Review process.