Gothic Revival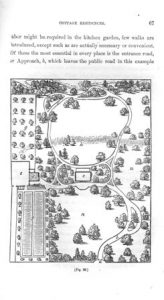 The Gothic Revival Cottage was part of the Romantic Revival Movement in American architecture. Plan books published by Andrew Jackson Downing expanded on the works of his friend Alexander Jackson Davis, designer of the first documented American Gothic Revival residence in 1832. Downing's first book in 1842, Cottage Residences, achieved wide circulation and its tireless promotion by Downing popularized the style.
The title of Downing's second book published in 1850, The Architecture of Country Houses, emphasizes the rural nature of his vision. Oak Hill, like the examples presented in the plan books, was the centerpiece of its landscaped grounds, carefully contrived to present a natural setting.
Downing offered readers two choices of landscape philosophies, the "beautiful" and the "picturesque." The Gothic Revival Style lent itself to the "picturesque," epitomized by the ancient oak tree next to which Oak Hill Cottage was built.
According to "A Field Guide to American Houses" by the McAlesters, "This style was seldom applied to urban houses for two reasons. First, the writings of Davis and Downing stressed its suitability as a rural style, compatible with the natural landscape; it was not promoted as appropriate for urban dwellings. Secondly, its emphasis on high, multiple gables and wide porches did not physically lend itself to narrow, urban lots."
The style went out of favor for residences after 1865, but a High Victorian Gothic phase during the 1870s was applied to primarily public and religious buildings.